Product introduction
CNB - T1L is for product experiment, the ideal of development and quality control tools, small amount of product testing can be performed at the same time; Dispersing process, the product was sent into closed grinding cavity, via the pin mixer to stir bar, the formation of circular grinding, dispersion, by pump pressure discharge grinding cavity smoothly.
Application:
Test research school
Nano material sample development
Ceramic materials, battery materials, digital inkjet, high-performance coatings, pharmaceutical and other fields of research and testing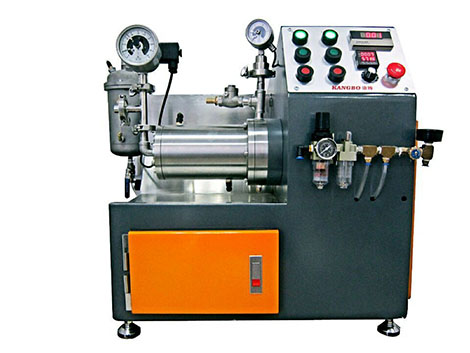 Characteristic advantage
Important features:
Rapid and cost-effective new models, because the dispersed precision repeatability.
Fast and reliable experiment is transferred to the development of production, because the quantitative knowledge of mechanical power input
Production quality control and assurance
Grinding chamber system (stainless steel mill, steel nitride grinding rotor) options: hard metal, ceramic, zirconia, silicon carbide (SiSiC)
Abrasive mesh clearance separation using special ceramic materials.
Double mechanical seal way, build into easy to install and system integration, pressure and cooling lubricants
Minimize the blind Angle
Abrasive materials a small amount of dispersion is likely due to the almost complete product recycling
Very abrasive production
Due to the excellent cooling water temperature control system, has a very large surface area